How to Install Android SDK on Windows 8
After explaining how to install Android OS on PC in one of our previous tutorials, today we are going to talk about installing the Android SDK for use with Eclipse on Windows 8.
Firstly, let's see what you will need to download in order to successfully complete the installation of Android SDK on Windows 8. As the tutorial explains installing the Android SDK for use with Eclipse, you should have the Eclipse on your PC. If you do not have it installed, below is a link which you can download it from:
http://www.eclipse.org/downloads/
Then, visit developer.android.com/sdk/index.html or simply do a Google search and find the Android SDK website. Once there, click on Developer tools>Download>Get the Android SDK. Click on "Download for other platforms", locate the basic SDK under the category "SDK tools only" and click on the file for Windows and download the .zip file.
Once the file has downloaded, locate it and extract to the same directory or to a place of your preference. Rename the folder into Android so you can work with it and manipulate it more easily and move the entire extracted folder into Program Files. Now open Eclipse and make sure that you have the latest version by clicking on Help>Check for updates. If everything is alright, go back in the Help menu and click on Install New Software where we will install the new plug-ins. You will see a screen named Available software, and where it say "Work with:", type in or paste this site's URL:
https://dl-ssl.google.com/android/eclipse
Then, under the category "Name" enable both the Developer tools and NDK Plugins and click on Next for Eclipse to calculate requirements and dependencies. A screen will appear containing Install details. Make sure once again that everything is selected and click on Next>Finish. This will begin installation after which you are going to be prompted to reboot your computer.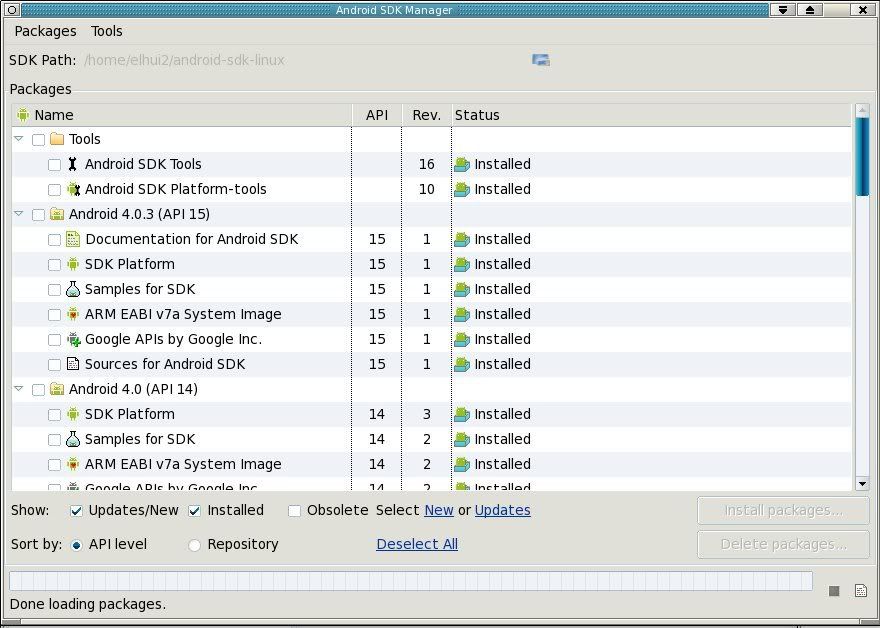 Once you have restarted your computer, open the Eclipse and you are going to see a message saying that the location of the Android SDK has not been setup in preferences. Go to Open preferences and find the directory that we had set. If you had done the same as us, click on Browse and find the Android folder in your Program Files. This Android folder is actually the directory where we installed the SDK. Back in Eclipse, click on Apply. Now it is going to report that a SDK platform tools component is missing and that you should use the SDK Manager to install it. Click on Open SDK Manager and, because we already downloaded the foundation and installed it, the SDK Manager will recognize a lot of these files. It will see that you have the SDKs installed, but not the Tools.
So, under the Packages category, click on Tools in order to select it for installation. Also, click on the newest available version of Android (with the newest API). Of course, if you want to try any of the older versions there is absolutely nothing stopping you and you can click on them as well. Once you have clicked on all the things you wish to install, click on the button in the bottom right corner and Install all of the selected packages. Depending on how many packages you have chosen, this might take a while, so be prepared to wait up to an hour. When the installation is finally completed, you are going to see a message on the bottom of the window saying "Done loading packages". This means that you are able to close the Android SDK window.
In the Eclipse main window, you can click on the Window tab where a drop down menu will appear and this is where you can check for updates, new Android SDKs, create an Android virtual device and set up preferences and many other things, so feel free to browse around. Now you can create a new project for Android by clicking on File>New>Other… and open up Android and select Android Application Project.
This is how you can create Android applications on your PC using Eclipse. Now you have Android tools installed on your computer and you can start learning more about Java programming and Android development. Have fun!
How to Install Android SDK on Windows 8

Please Leave a Comment and Share on G+ it's important for us