iOS 7 vs. Jellybean 4.2.2: Who's Gonna Win?
Apple has just released their latest operating system, iOS 7 and Google's Android Jelly Bean 4.2.2 has also been released recently. With these two awesome operating systems available for their respective smartphones and tablets, people can't help but compare to find out which one is better.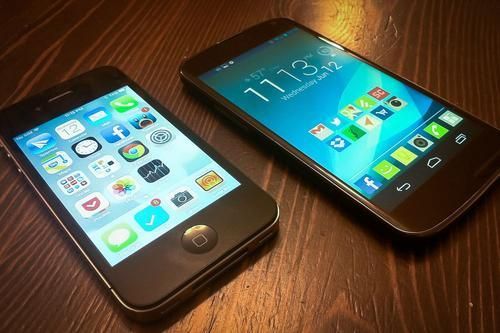 Here's the lowdown on the 3 aspects of comparison of iOS 7 vs. Jellybean 4.2.2:
1. User Interface
The operating system's interface is probably the attribute that gets people to touch and interact with a gadget and begin talking about it. It is what gives people that oh so important "first impression", so to speak.
With the iOS 7, Apple gadgets now have a sleeker and cleaner look. Some changes include icons that are flatter than before, new font, a more saturated color palette and wallpapers that are more translucent. The iOS 7's overall look still remains familiar but the modifications done to the user interface is refreshing and more modern.
The interface of Android has been known to be more customizable. For the Android Jelly Bean 4.2.2, there is still the popular multiple home screens for shortcuts and widgets. The slight difference in this Android update is the darker interface with predominantly black backgrounds that give it the modern appeal.
2. Features
Both Android Jelly Bean 4.2.2 and iOS have exciting updates to their existing operating system features.
A. Multitasking
The iOS 7 offers a carousel that enables the user to see what apps are open and to switch between then. The iOS 7 has an intelligent multitasking feature. It refreshes the favourite apps during the time of day when they are used the most.
The Jelly Bean 4.2.2 multitasking but ton lets the user preview all recently opened apps. A click on the app preview opens the app and sliding will get rid of the preview.
B. Home Screen, Lock and Notifications
iOS 7 has a brand new lock screen with a live wallpaper, which some say is similar to the Phase Beam of Android. Notifications can now be accessed straight from the lock screen. The notification panel now has tabs labelled "today", "missed" and "all". Adding a new color scheme and pages to folders are the additions to the home screen for the latest iOS update.
The Android Jelly Bean 4.2.2 lock screen has widgets that let users see what is going on with the phone without unlocking it. The customizable home screen gives users easy access to clock, mail and messaging to name a few. The Jelly Bean 4.2.2 notification panel is the same as the 4.2 version, which enables users to expand and perform actions straight from the notification panel.
C. Multi-user Support
This feature is only available for Android tablets using the Android Jelly Bean 4.2 and 4.2.2 and it allows the separation and sharing between users. This feature is especially useful for families with children who like using apps for school or play.
3. Apps
iOS 7 is now loaded with redesigned apps such as iTunes Radio, Control Center, Siri and AirDrop. Android Jelly Bean 4.2.2 has Google Now, a new Android Gesture keyboard, Photo Sphere, Full HDMI mirroring and updates in Google Play Music and Movies.
Both Android Jelly Bean 4.2.2 and iOS 7 are very proficient and exciting operating systems. The research and development teams of both Google and Apple seem to be on their toes in playing catch-up with technological advances. The most interesting thing about the new offerings is that the two choices for operating system have characteristics that are closely similar to one another, it is entirely up to the consumers to get a feel and choose which one suits their lifestyle the most.

Please Leave a Comment and Share on G+ it's important for us