Picture Calendar Widget THD App Review
If you ever wanted to put a classic Picture Wall Calendar on your home or lock screen, this Widget is worth taking a look at. It resembles the look of those art calendars including the common spiral binding and even the nail to the wall. Of course this one isn't printed on paper and so almost everything can be changed to your liking.
The Widget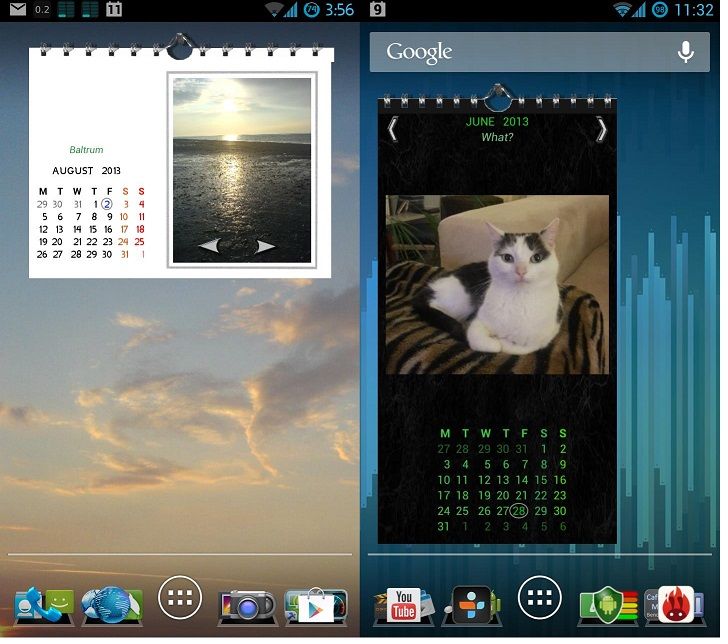 Design
Currently two designs are available, one light and one dark (ideal for AMOLED screens). For both designs there is a set of distinct colors you are free to choose, allowing you to customize the color scheme of the Picture Calendar to your desire. An optional picture frame enhances the contrast between background and picture. The calendar always shows a whole month with either one or two weeks a row.
While the design is nice and as close to a paperwork picture calendar as it can get, appearently the scaling of the background does not always go with that of the spiral binding. Users who don't like this may switch off the spiral binding through app settings. Perhaps the developer is going to fix this in a later version.
Functions
There is only so much functionality on the Widget itself: Arrows allow the browsing between months, a tap on the picture opens the configuration app and to get to your default calendar, tap on the calendar text. If the picture of one of your contacts having birthday is shown, tap on the month / year / caption part or on one of the gift boxes to open his or her card.
On newer Android Versions (4.1+) the Widget is resizable and adapts it's layout according to the new dimensions and aspect ratio. Text sizes are set automatically on initial creation and resizes. Sometimes the text is too small and hard to read, but as of now there is no way of manually correcting this. The widget comes in five fixed sizes, if you're still on Android 4.0 or below.
If you activate birthdays of contacts, in addition to marking birthdays on the widget it also brings up an optional notification with that contact. On Android Jelly Bean also up to five more contacts having birthday in the near future are shown. Right now the birthday date has to added to a contact directly, the default calendar is not taken into account.
Though the birthday feature is well done and a nice addition to Picture Calendar, it's only half the way in my opinion. Even though the main goal is to show a pretty wall calendar, adding calendar events to the widget is a wanted feature, as Play Store comments and a survey by the developer indicate. With it's own colors and markings of course.
If your screen real estate is big enough it is possible to run multiple Picture Calendar Widgets side by side. While they share the same profile and settings, each can show a different month and a different size. On Android 4.2 and up the Widget is also available on the Lockscreen
Calendar Profile and Settings
Profile
To set up a Picture Calendar, you either create a new widget, tap on the picture of an existing widget or launch the configuration by the app icon. Up comes the main view, showing a grid of twelve cards, one for each month of the year. Initially all cards show a default picture and no caption.
By tapping on one of those default pictures a context menu pops up, allowing to grab a new photo by camera or any app serving pictures like gallery, dropbox, drive and many file managers. Adding pictures is straight forward, but a bit slow, especially on slower devices. There is no way to reorganize pictures other than adding them again. This could use some improvement like swapping pictures with drag & drop for example.
After a picture is set for a month the context menu adds more actions to the bunch: Now it allows you to rotate the picture 90 degrees clockwise or counter clockwise, as well as to share it by the standard android share function. While rotating any other option is disabled until the context menu is closed or the rotation has been reverted. Closing the menu on a rotated picture saves it. Pretty good and intuitive concept.
Adding captions is as easy as tapping on a caption and entering the text.
The share action comes in handy if you want to edit a camera shot or add some gadgets to your photos. By sharing to a picture editor like PicSay and sharing the result back to Picture Calendar enhancing your photos for the calendar is a breeze. Though sometimes there is a glitch and an old instance of Picture Calendar remains in memory after you saved your work. As a workaround it is recommended to cancel the old instance to avoid overwriting newer settings. Hopefully the developer will come up with a solution to this too, as there is a chance to lose changes.
Settings
Settings include design and color changes, adapting the update interval and enabling birthday markings and notifications. It is also possible to randomize the twelve pictures such as a random picture is shown every month.
Picture Calendar Widget
Conclusion
Currently there is no alternative available to Picture Calendar Widget if you want it to be classic. The spiral binding is unique amongst all Picture Wall Calendar apps and while other calendar apps bring more themes, this one shows any color one could wish for. Also the resizable feature is very well done, only one other photo calendar widget is also resizable, though not that accurate in layout selection.
The Widget design is very clean and classy, though I'd wish the arrows would blend in better. Currently they are done as  embossed matte glass, which does not fit well with the overall widget design.
Functionality follows design with this app and so I miss some of the features known to other Calendars, like showing calendar events, or different views like weekly or agenda.
With the latest iterations the app gained several perfomance boosts and bug fixes and according to user comments the developer is very responsive and tries to take every user suggestion into account. So it is definately worth sending an email in case of any issues, usually there is a response within hours.
According to recent posts on Google+ the next additions will introduce social media capabilities to Picture Calendar, including the ability to save, restore and share complete calendars to and from your Google Drive.
Google Play: https://play.google.com/store/apps/details?id=de.kashban.android.picturecalendar

Please Leave a Comment and Share on G+ it's important for us